Who does working from home really work for?
Posted on 20/06/23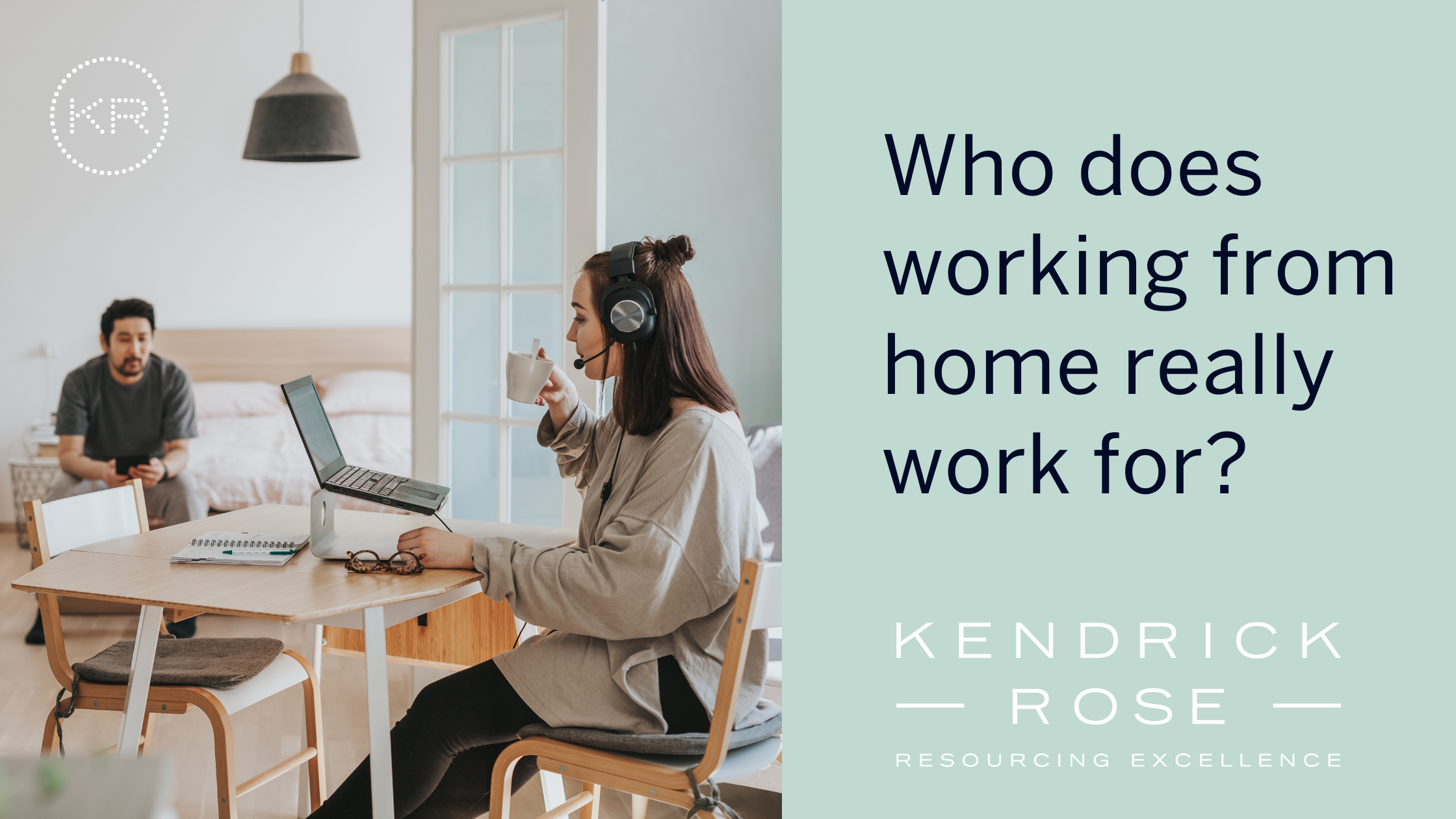 Three years after working from home (WFH) became part of everyday life for many employees, some major global firms are calling people back to the office citing lower productivity and demotivated staff.
Google has recently followed Meta and Twitter asking staff to return to the office, joining the likes of Barclays, Disney, and Starbucks which all now require staff to be in at least four days a week.
Of course, these are major global brands, and what happens to the workforce in the USA doesn't necessarily translate for employees in Europe, the UK, or indeed Jersey. However, it does prompt the question, who does working from home really benefit?
Impact of working from home on productivity
Advocates of home working sometimes cite a 2015 study by Stanford academic Nicholas Bloom in which he followed a home working experiment at Ctrip, a Shanghai-based travel agency. Over a two-year period, he found that call centre staff who worked from home four days a week, then came into the office together one day a week, were 13% more productive than staff who worked in the office full time. 9% of the gains were attributed to staff taking fewer breaks and sick days, while 4% of increased productivity was put down to staff taking more calls per minute thanks to a quieter working environment.
From 2019 to 2022, the number of people working from home in the UK doubled from 4.7 million to 9.9 million according to data from the Office for National Statistics. In addition, 14% of people who didn't normally classify themselves as homeworkers said they worked from home one day a week in 2022.
Research from the CIPD found self-reported productivity increased over this period. In December 2020 33% of employers said they believed homeworking had boosted productivity in their organisation, a figure which rose to 41% nearly a year later. The survey of over 1,000 employers and 2,000 employees also found the number of employers saying homeworking harmed productivity dropped from 23% to 18%.
The CIPD research also showed gap between what employers and employees want, with 25% of employers saying they would prefer staff to be in the office full time, while 39% of employees would prefer to work from home all the time.
What we think in Jersey
While workers in Jersey don't share the same issues of long commuting times or vast differences in cost of accommodation between cities and outlying areas, businesses have still had to adapt to a shift in employees wanting to embrace home working some of the time.
Shelley Kendrick, Managing Director, Kendrick Rose, said: "The pandemic gave many of us a taste of working from home for the first time, and a lot of employees liked it. Productivity isn't the only consideration for running a business, especially in a smaller jurisdiction such as Jersey. Attracting and retaining the right staff can be a more significant consideration and businesses must factor in what employees want in terms of where they work."
In a recent Kendrick Rose poll on Linked In just 1% of respondents agreed with the statement that working from home is better for a business than employees, compared to 7% who said it was better for employees.
Overwhelmingly 85% of those surveyed in June 2023 said they thought working from home could be as good for a business as for employees, while 7% agreed it could be as bad for both.
The poll, which attracted responses from over 133 professionals in Jersey, shows the balance organisations and employees must achieve to keep staff happy and to keep businesses functioning for long term success.
Shelley said: "We must all be realistic about what a business can do to accommodate the way employees want to work, and what employees need to do if they are going to work for an organisation that is competitive in a global market. From a recruitment perspective business can attract talent by being flexible, but ultimately, if roles can't be filled here, some will end up being outsourced or consolidated into other jurisdictions."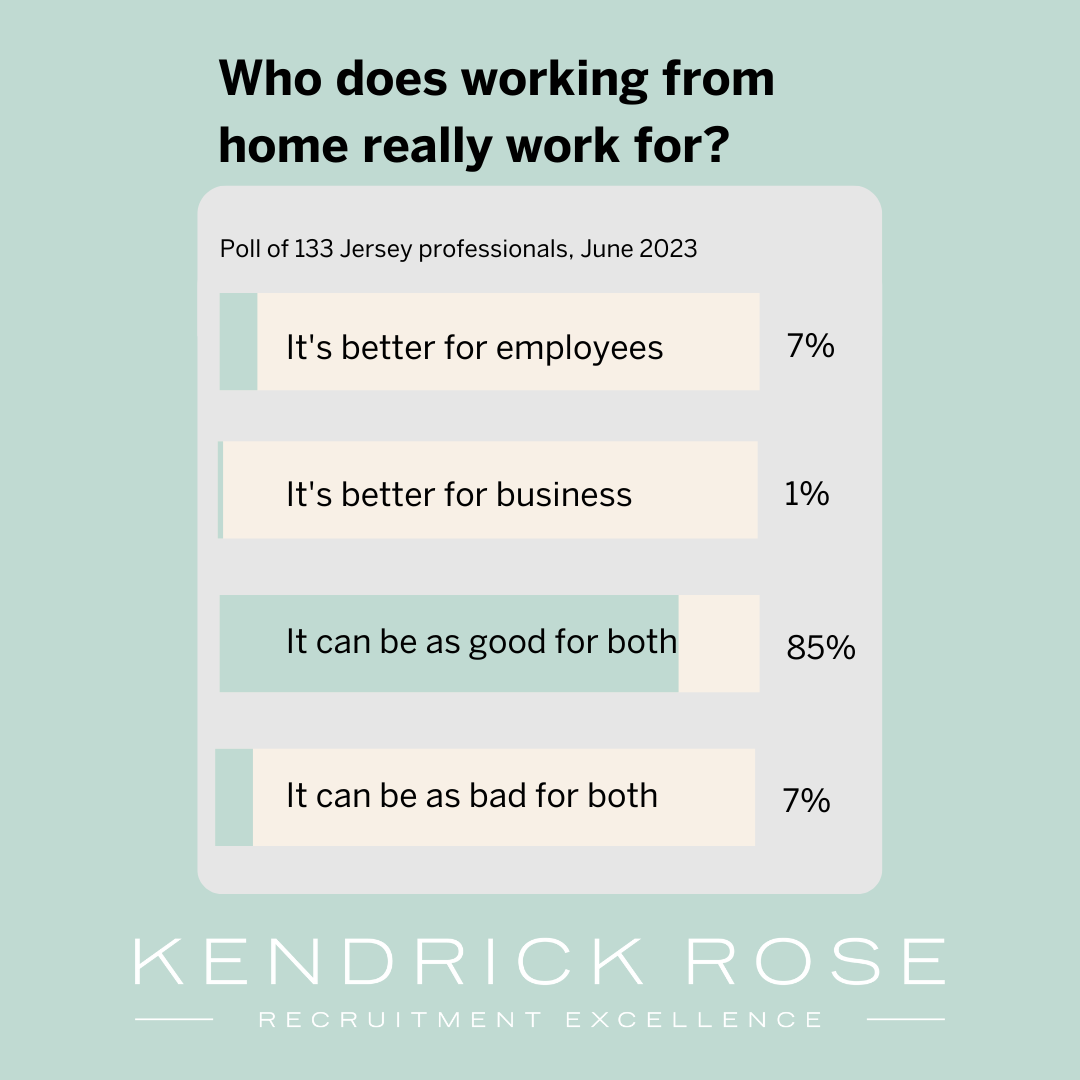 "We must all be realistic about what a business can do to accommodate the way employees want to work, and what employees need to do if they are going to work for an organisation that is competitive in a global market." - Shelley Kendrick