Human Rights Day 2021 - How to Ensure Equality in Recruitment
Posted on 10/12/21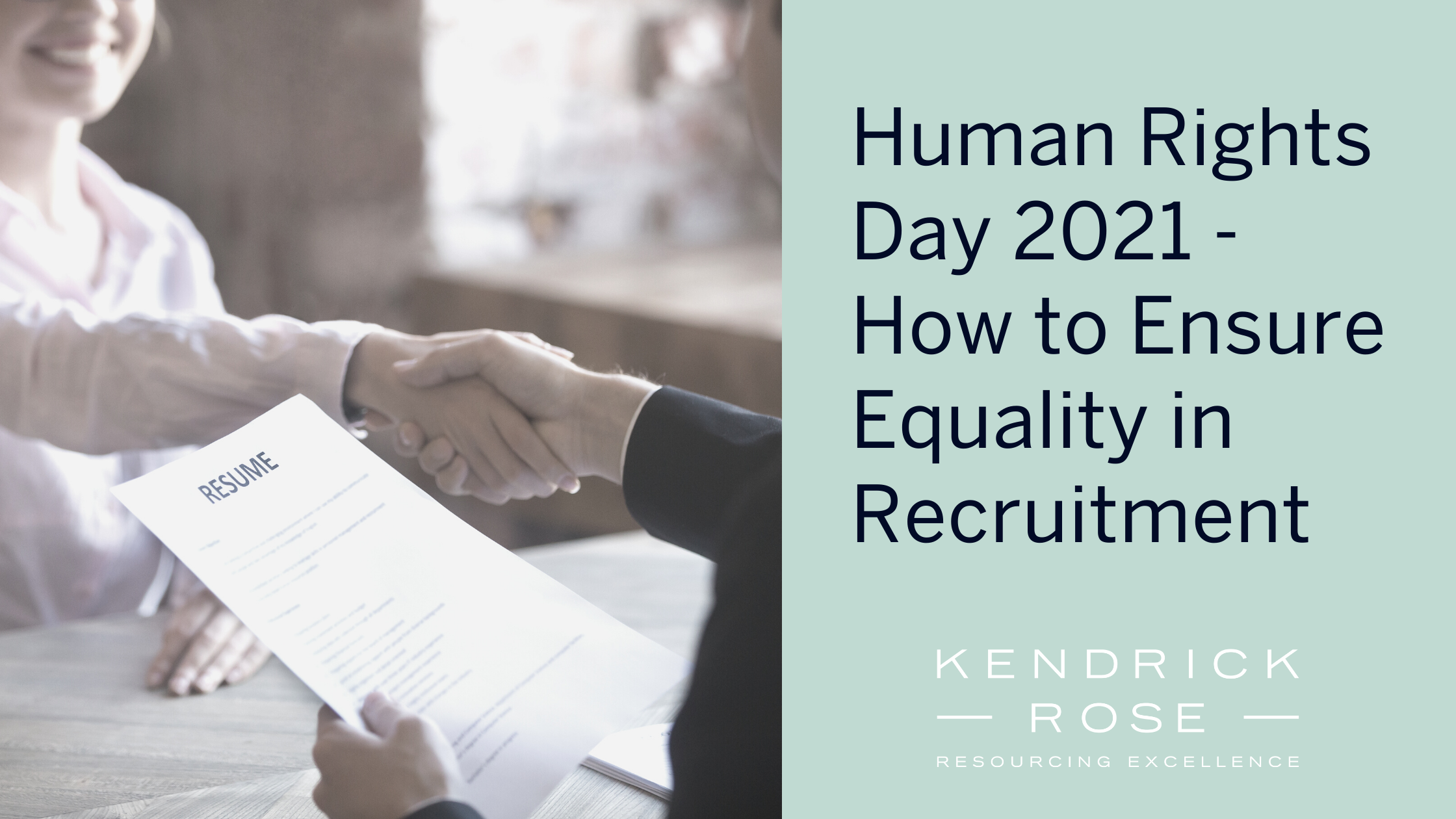 The theme for Human Rights Day 2021 is "Equality, Reducing inequalities, advancing human rights." This Human Rights Day, we take a look at the different types of discrimination, and the 5 key areas you can assess to ensure a fair and diverse recruitment process.
While discrimination in recruitment and candidate selection is illegal under the 2010 Equality Act, unfortunately, discrimination can still be a real issue.
Discrimination occurs when decisions are made based on protected characteristics, rather than essential or desired criteria.
Essential criteria may include things such as fluency in a language, the right to work in a country or specific skills or knowledge, and desired criteria may include aspects such as a certain number of years' experience, certifications or memberships.
Protected characteristics, on the other hand, include any of the following:
• age
• disability
• gender reassignment
• marriage and civil partnership
• pregnancy and maternity
• race
• religion or belief
• sex
• sexual orientation
Discrimination is a multifaceted problem, and is not always as straight-forward as you may assume. Awareness of the different types of discrimination is key to avoiding it:
Direct Discrimination occurs if someone is rejected for a role or discriminated against based on any of their protected characteristics. For example, refusing to recruit a woman because she is pregnant.
Indirect discrimination is when a condition, rule, criterion, policy or practice applies to everyone but is particularly disadvantageous to people who share a protected characteristic.
Associative discrimination is where an individual is directly discriminated against or harassed for association with another individual who has a protected characteristic. An example would be not promoting a staff member because they care for a parent who had a stroke.
Perceptive discrimination is where an individual is directly discriminated against or harassed based on a perception by others that they have a particular protected characteristic - even if they don't actually possess that characteristic. For example, someone being discriminated against because someone assumes their sexual orientation, even if their assumption is not actually correct.
The exception to the rule is Occupational Requirement ‐ where, in limited circumstances, employers can directly discriminate against an individual in regards to a protected characteristic, where there is an occupational requirement. The occupational requirement must be crucial to the post. For example, a refuge may feel it is essential to hire someone of the same gender as the victims they help, or an organisation that campaigns for LGBTQ+ legal rights may feel that their Chair should be someone who identifies as LGBTQ+.
Now that you're familiar with the types of discrimination, here are 5 key areas to look at to help promote diversity and inclusion in your recruitment process:
The criteria should be based on the skills, qualifications and experience required for the job. Assessing applicants on the basis of predetermined criteria increases the objectivity of recruitment and reduces the impact on decision-making of irrelevant factors such as attitudes and preconceptions. Clear evaluation criteria also facilitate the work of recruiters.
A job advertisement can express in many ways – in words and pictures – what kind of applicants the organisation is targeting for the job. You want to ensure your advert does not indirectly discourage any groups of people to apply. Consider whether the language and imagery you use is targeted at one particular race or gender or if it falls into any stereotypes.
You can also consider including a diversity statement, which demonstrates that the organisation appreciates diversity and encourages representatives of different minorities or under-represented groups to apply for the job.
Prepare interview questions carefully in advance so that they help identify the skills and competences required by the job as well as possible and are comparable to the pre-determined assessment criteria.
The same questions related to the job criteria should be asked to all candidates, and individual questions can then be asked following on from their individual answers.
You can only ask the applicant for information necessary for their selection and you can only assess them on the basis of information that may be relevant to performing their work tasks. You are not entitled to collect personal data from them that is not necessary for the selection process, even with their consent.
Having more than one interviewer helps ensure a more objective approach is taken and that a decision is not reached due to one person's subconscious biases and stereotypes. If possible, interviewers should have different backgrounds and characteristics.
Blind or partially blind interviews can also help ensure against discrimination - this can look like anonymous applications with no personal information required to be given, such as age, race or gender.
When you make a recruitment decision, challenge your ways of thinking and biases – what are the factors that influence your decision and which ones are relevant to the job in question? Are you recruiting someone who will easily blend in with your culture or someone that can add something new?
For recruitment decisions to be transparent, it is important that your selection is clearly justified on the basis of predetermined criteria. Having multiple evaluators examine whether the applicants fulfil the selection criteria is also a good way to ensure the objectivity of the selection.
We hope you found this helpful and can implement some of the above into your recruitment process to help ensure diversity and eliminate discrimination from your organisation.