8 Questions to ask your potential employer at an interview
Posted on 30/11/21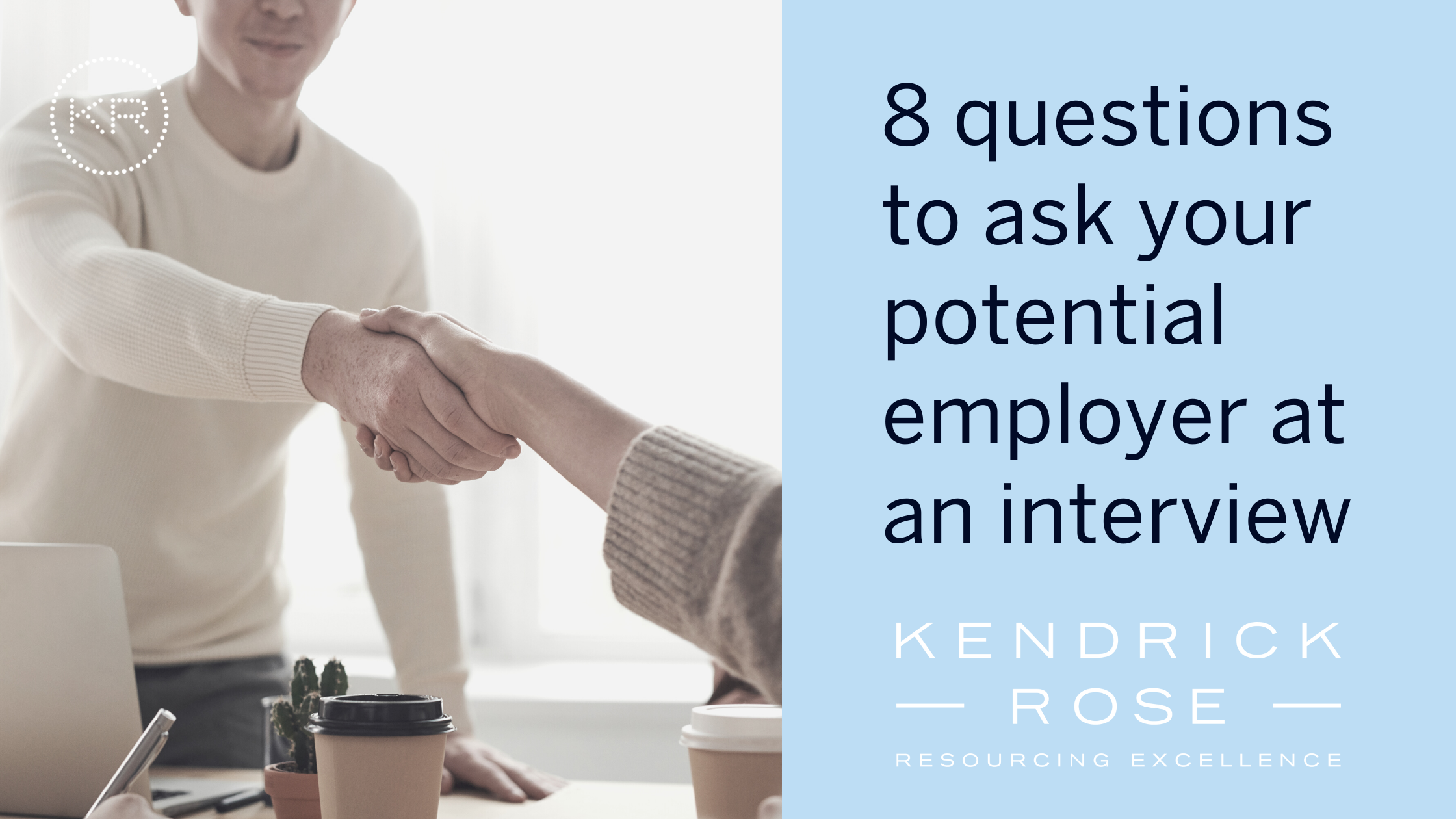 Being asked if you have any questions can sometimes feel uncomfortable at an interview - you may feel like you genuinely don't have anything to ask, yet still feel like you should be asking something.
Having a few well thought out questions can help affirm your interest in the role and show your initiative, as well as providing a great opportunity for you to learn a bit more beneath the surface of the role.
Here are eight examples of what you could ask:
Can you tell me more about the day-to-day responsibilities of the role?
Asking this question enables you to learn as much about the role as possible. The interviewer's response will provide insight into what skills and experience are needed, and will also help you decide if the role is right for you.
The answer will give you an idea of what the employer's expectations are, so if you're offered the job there should be no surprises when you start.
Will there be opportunities for training and progression within the role?
Enquiring about development opportunities demonstrates to the interviewer that you're serious about your career and committed to a future with the organisation.
You don't want to be stuck in a dead-end job so if you're unsure of the typical career path for someone in this role, asking this question will help you to assess whether a long-term career with the company is a possibility, or if you'd need to move on to gain further responsibility.
The company's mission statement emphasizes [fill in the blank]. Can you tell me how that comes across in daily life working here?
Referencing the company's mission statement is a great way to show that you've done your research properly, and asking this question shows an interest in their values, plus gives you an insight into how those values are integrated.
How will my performance be evaluated? Are there both formal and informal feedback processes?
Understanding how your potential new manager will measure your success is key in both understanding the company priorities, as well as their managerial style.
What is the company culture like?
Company culture is a growing hot topic, so this queston is great for two reasons - it gives the recruiter the chance to blow their own horn about the company culture, providing it's a priority, but will also give you an insight to whether or not the culture is the right fit for you.
From the recruiters response, you'll learn if and how the organisation prioritises employee happiness, of any benefits on offer and what the work-life balance is like.
What is the team like, and how does working together look like?
Your team is a big part of your experience at any company, so it's worth trying to find out about the team dynamic and working methods.
This will also help you understand the way the company is structured, who you'll report to and the department the role sits within. Depending on the response, it may also give you the opportunity to mention any experience or success you've had working in similar teams - just to give the employer one final example of how well you'll fit in if you get the job.
What do you enjoy about your job?
Everybody loves to talk about themselves and this question enables you to build up a sense of camaraderie with your interviewer. This question requires a personal response, so you could learn a lot from their answer.
You'll get an insider's view of the company culture and working environment and you may even get to discover how your interviewer got their start in the business and how they progressed.
What are the next steps in the interview process?
This can be a great chance to show you've done your research on the company if you can refer to your findings, such as mentioning the company's mission statement.
While appropriate questions will vary from role to role, general areas to think about are:
What your day-to-day looks like in the role and team
How your performance is measured
Opportunities for progression
Company culture, ethos and mission
We recommend having more than one question prepped in advance, in case anything you planned to ask has already been covered.
Good luck!