10 tips to create a positive interview mindset
Posted on 12/10/21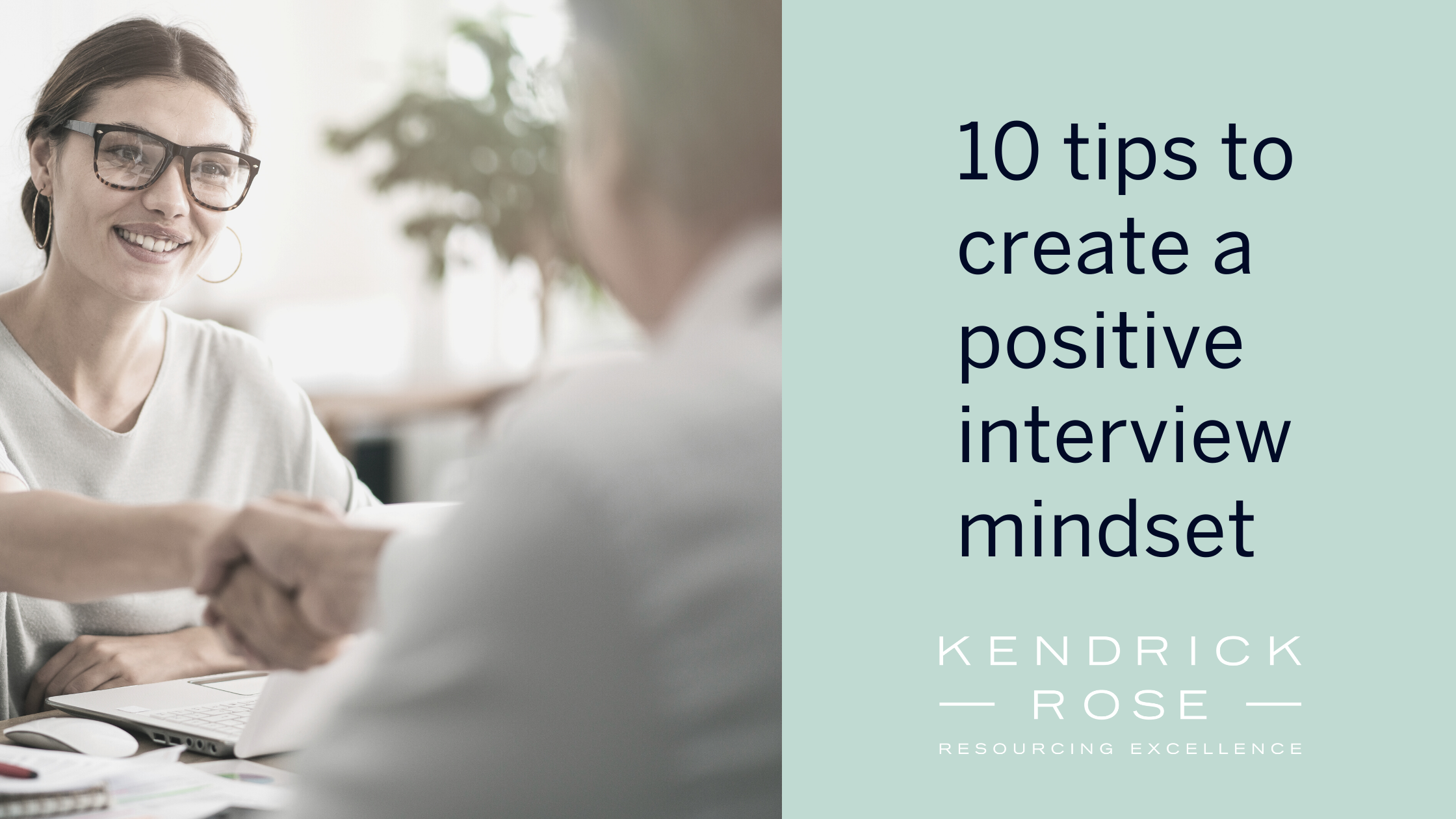 1. Reframe your thoughts
Our brains tend to believe what we repeatedly tell them. If you are someone who easily gets caught in a negative thought spiral, such as worrying that you're unqualified for the job, or that you won't come across well in the interview, chances are your brain will start to believe this, and it will affect how you come across.
Instead, take decisive action to reframe your thoughts. Look for evidence that counters the negative thoughts you are having; focus on how far you have come already in your career and list positive achievements and experience. Remind yourself of all the reasons why you are absolutely qualified for the position, and allow yourself to take confidence and reassurance from that.
Don't forget, you've already been invited to an interview, which is something to be proud of in itself.
2. Don't listen to your imposter syndrome
Though you may not be familiar with the term, Imposter Syndrome is something many of us have experienced. Essentially, it is the feeling that you have somehow fooled others into thinking you're better at something, or more capable, than you really are. Or that you don't deserve the success you've experienced so far, possibly accounting your success simply down to luck or chance.
Turn this limiting belief on its head by telling yourself that your success is ultimately down to your own competence and effort, and allowing yourself to take full responsibility for it. Even if your current responsibilities look a little different right now, all the skills and experiences you've built up still exist and are still a relevant part of your capabilities.
3. Don't overthink it
Thinking too much about the significance of the interview itself could put an unnecessary amount of pressure on yourself, potentially resulting in negatively impacting your frame of mind during your preparation.
While some pre-interview nerves are natural and okay, you don't want to let them overwhelm you. Overthinking it could lead to unhelpful thoughts that might affect your self-esteem and confidence.
Take a step back and reframe your thoughts to put the interview into context for what it truly is: a conversation with someone about a job you're interested in, which is a chance for you both to get to know each other.
4. Make sure you're prepared
We've all heard 'fail to prepare, prepare to fail', and there's some truth to that. But good preparation isn't only a tool for improving your chances of actually landing the job; it's also great for your mindset.
If you feel prepared, you feel confident, and your frame of mind is therefore more likely to be positive, and you can relax in the knowledge that you have done all you can and whatever happens next is inevitable.
5. Hype yourself up on the day
What puts you in a positive state of mind? Whether it's an empowering morning mantra or a song that makes you feel amazing, now is the time to use them. List out your achievements to date and remind yourself why you would be a great fit for the job.
You could also enlist the help of a friend of family member to give you a pep talk before the interview - often it is easy to believe the positive words of others than ourselves.
Intentionally use positive and optimistic language to yourself, too, such as 'I'm looking forward to the interview'. Positive affirmations don't just make you feel better, research shows there is evidence that motivational self-talk actually helps to improve performance.
6. See it as an opportunity for growth
Try not to put all the emphasis on the outcome (whether you land the job or not) and instead see the whole experience as an opportunity, this way you are much more likely to keep a positive mindset before and during the interview - and actually learn from it.
For example, you could emerge from the interview with a clearer sense of what you do and don't want from your career, or where your strengths and weaknesses lie and, therefore, what you need to focus on next to get ahead in your career, which are positive outcomes in themselves.
7. Use support if you need it
Your recruiter is there to help support you throughout the process, not just to find suitable jobs, so utilise them as much as you need to feel confident with your upcoming interview.
Don't be afraid to ask for a meeting or video call to go over questions before your interview if it will help put your mind at ease.
Alternatively, if you have a friend or family member who is great at dishing out advice and reassurance, arranging a quick call with them about how you're feeling could help enhance and sustain your positive mindset.
8. Don't become too absorbed
Yes, it's important to prepare well for any job interview, but even when an interview is looming, you should still have plenty to enjoy away from the world of work. So, don't hesitate to continue partaking in any hobbies and interests elsewhere in your life that will help you to keep perspective and blow off some steam. Something as simple as a puzzle or video game can be great for boosting both our self-efficacy and confidence in overcoming problems.
Research has found that even simply spending time walking outside, for example, can reduce stress and improve cognitive function. If your current government restrictions mean that you cannot go for a walk outside, an activity like yoga or meditation will help you to achieve the same reduce in stress and ensure you stay present in the moment.
9. Get excited!
Ultimately, a job interview is a great opportunity to be introduced to new people and could open the door to taking the next exciting step in your career.
Take some time to think about all of the things that attracted you to the role, including what it would be like to do the job itself, and the opportunities it could open up for you.
Allowing yourself to feel excited and visualise what it will feel like to work in this new role will help you to feel more confident and maintain a positive mindset throughout your preparation.
10. Dress intentionally
Although offices have become more and more casual, it's still good practise to dress smart for an interview - even if it's on Zoom.
Not only does dressing well help how you come across, but it can have a big impact in your mindset too. Wear something that makes you feel smart, confident and powerful (as long as it's suitable for the position, of course). The small touches, such as wearing your best shoes or favourite lipstick, can make a difference to how positive your mindset is ahead of and during the interview.
With a positive mindset in place, you'll be able to relax more easily and actually enjoy your interview, while you portray your authentic self from start to finish – a person who is confident, articulate and fully deserving of this wonderful opportunity. Ultimately, that's exactly who you are, so don't doubt yourself for a moment.
Contact info@kendrickrose.com if you'd like more personalised help with your job search or interview prep.