10 reasons to consider a career in Compliance
Posted on 15/03/21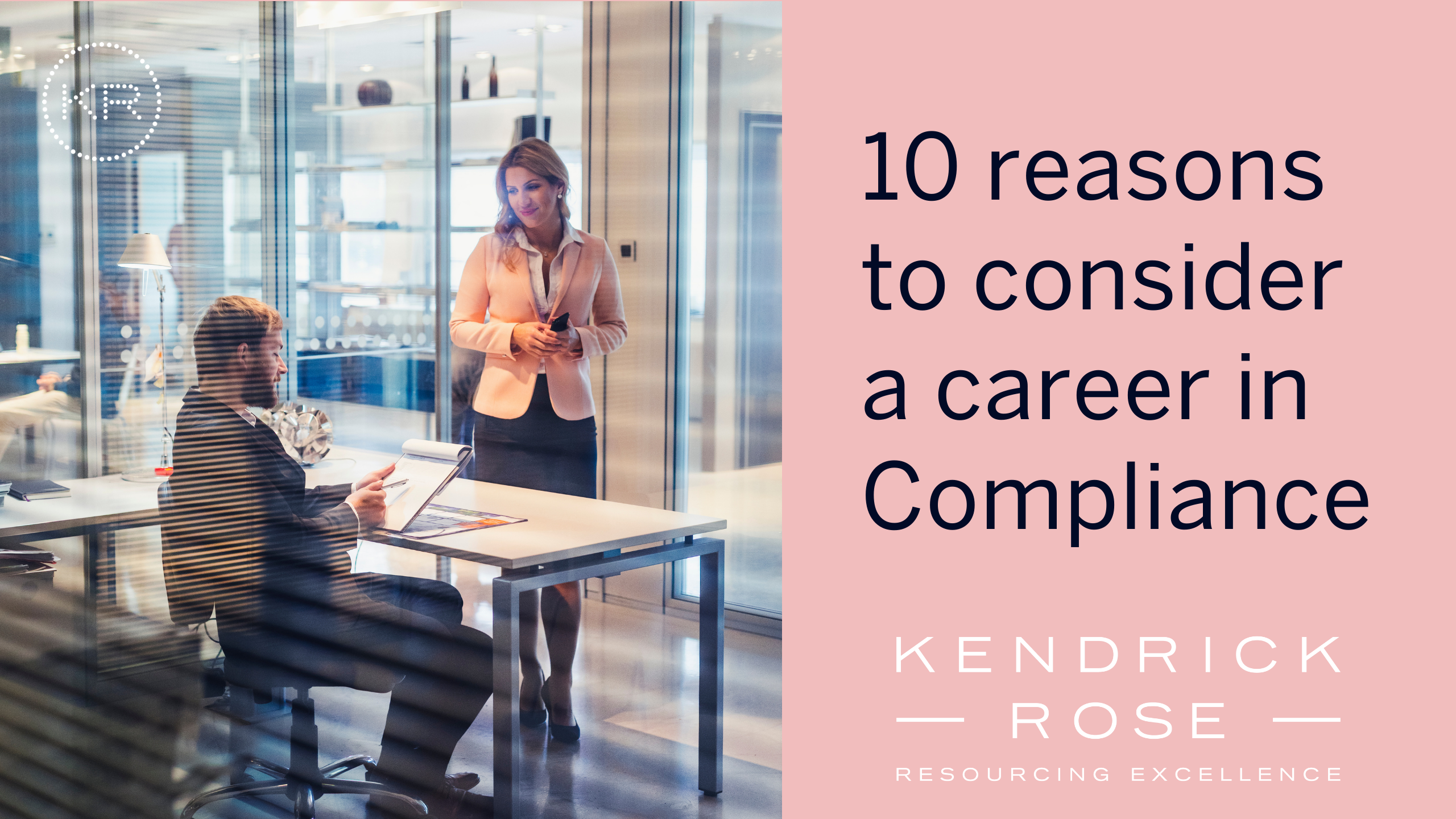 The pandemic has left many people contemplating a change in their lives, jobs or relationships. If you are looking for a new challenge and opportunity then Compliance is a great area to make your career in. Here are 10 excellent reasons to consider a move into Compliance.
Package
Starting salaries for Compliance Officers in Jersey may be anything from £35,000. Compliance Managers are likely to be on £50-£100,000. While Heads of Compliance, or Directors of Compliance may expect to earn more than £100,000.
Of course, pay rates vary across organisations but individuals with the right skills and experience, who are qualified to work in Jersey, can command excellent packages.
Perception
The image of the "Business Prevention Officer" or office policeman is very much yesterday's news. Forward-looking businesses embrace Compliance as a key tool of business efficiency and customer service and integrate it into their take-on and service framework.
But even if a business has not got that far, the importance of an effective compliance and risk team has never been clearer – the financial and reputational damage from recent fines has given new value to the voice of caution and restraint…
Transferability
You may feel that it will be a steep learning curve, and it is true that you will need to take exams if you want to make it to a senior or technical position, but almost wherever you come from you will bring skills that can make a real difference in a compliance role.
Whether you are used to dealing with clients, in which case you may understand how to get the difficult messages across in a constructive and effective manner; or whether you have worked in a project role, in which case you may understand how to roll out a new process or control; or indeed you come from some other background; the "trick" is to add the new knowledge onto the skills you bring with you.
Job Security
While many roles in Financial Services are likely to be replaced by Artificial Intelligence (AI) over the coming years and decades, the legal implications of regulation mean Compliance requires human oversight and intervention.
There is a place for technology (including AI) to reduce basic administration in areas such as onboarding clients and identifying anomalies in client behaviour (KYC) but these savings are more than offset by an explosion of new law and regulation that shows no sign of slowing down...the US Bureau of Labor Statistics (BLS) predicts the Compliance sector will grow 8% by 2024…
Opportunities
If you look on LinkedIn or other social media you will see that there are openings in Compliance at all levels. This is because supply has not kept up with increasing demand.
At Kendrick Rose, we see a number of new and highly attractive opportunities each month – probably more than for any other area. This means that Compliance is a great sector to get into if you are thinking of changing careers or starting out on a career locally.
Financial Crime is a key area for Compliance in Jersey, with particularly strong demand for MLCOs (Money Laundering Compliance Officers) and MLROs (Money Laundering Reporting Officers).
Intellectually engaging
Working in compliance involves being pragmatic and agile, working out how to solve problems and make things happen – "the art of the possible" – while remaining within the letter and spirit of the rules. Regulation creates opportunities as well as challenges, with Compliance the interface between Governments and Regulators, and businesses and organisations.
A good Compliance professional needs to interpret legislation and communicate with colleagues in the business to help them work effectively in line with regulations.
Prospects
You can get into Compliance as a school leaver/graduate or at any stage in your career. Career progression in Compliance can be fast, with someone potentially being promoted from a Junior Compliance Officer to a Senior Compliance Officer in two to four years. A Compliance Manager is likely to have more than five years' experience (perhaps including experience in another area of Financial Services) while Senior Compliance Managers are likely to have at least 10 years' experience.
Training is often on-the-job, with qualifications available through ICSA (The Chartered Governance Institute), the Chartered Institute for Securities and Investment (CISI), and the International Compliance Association (ICA).
Making the world a better place
Financial crime is not victimless. It may be remote and may not always be obvious but someone is suffering for each Pound, Dollar or Bitcoin (whether it is a drug addict, the victim of a scam or the taxpayer). Financial crime costs the world billions and Anti-Money Laundering is an important barrier to prevent illicit funds washing though the financial system.
Working in Compliance may involve wearing a suit (or more realistically, business casual if in the office) rather than a cape, but by helping businesses maintain and improve standards you are stopping them being accessories to financial crime.
Seeing the bigger picture
It's a myth to think Compliance is just about detail. Getting things right for an organisation involves understanding the bigger picture from legal, regulatory and ethical perspectives. The reality is seldom black and white and there are many factors to be considered in interpreting rules and implementing controls.
The skill of a good Compliance professional is being able to interpret risk in a way that protects an organisation and allows it to operate in a dynamic and effective way.
Work across industries
You can get into Compliance from a variety of backgrounds, not just accountancy, banking, or law, although they are common entry routes.
Compliance doesn't just affect Financial Services. Every industry, from health care to telecoms, education and not-for-profit is affected by legislation and regulations and requires Compliance professionals in their teams. And it's not just about external regulations, organisations often need someone to ensure they are following their own internal guidelines or professional best-practice standards.
If you are currently working in Financial Services and are thinking about your next move, why not consider a career in Compliance? For experienced Compliance professionals we have a wide range of opportunities currently available. Please contact Mark or Shelley for an informal chat.
"While many roles in Financial Services are likely to be replaced by Artificial Intelligence (AI) over the coming years and decades, the legal implications of regulation mean Compliance requires human oversight and intervention." - Mark Hucker, Kendrick Rose