Recruitment trends to look out for in 2020
Posted on 08/01/20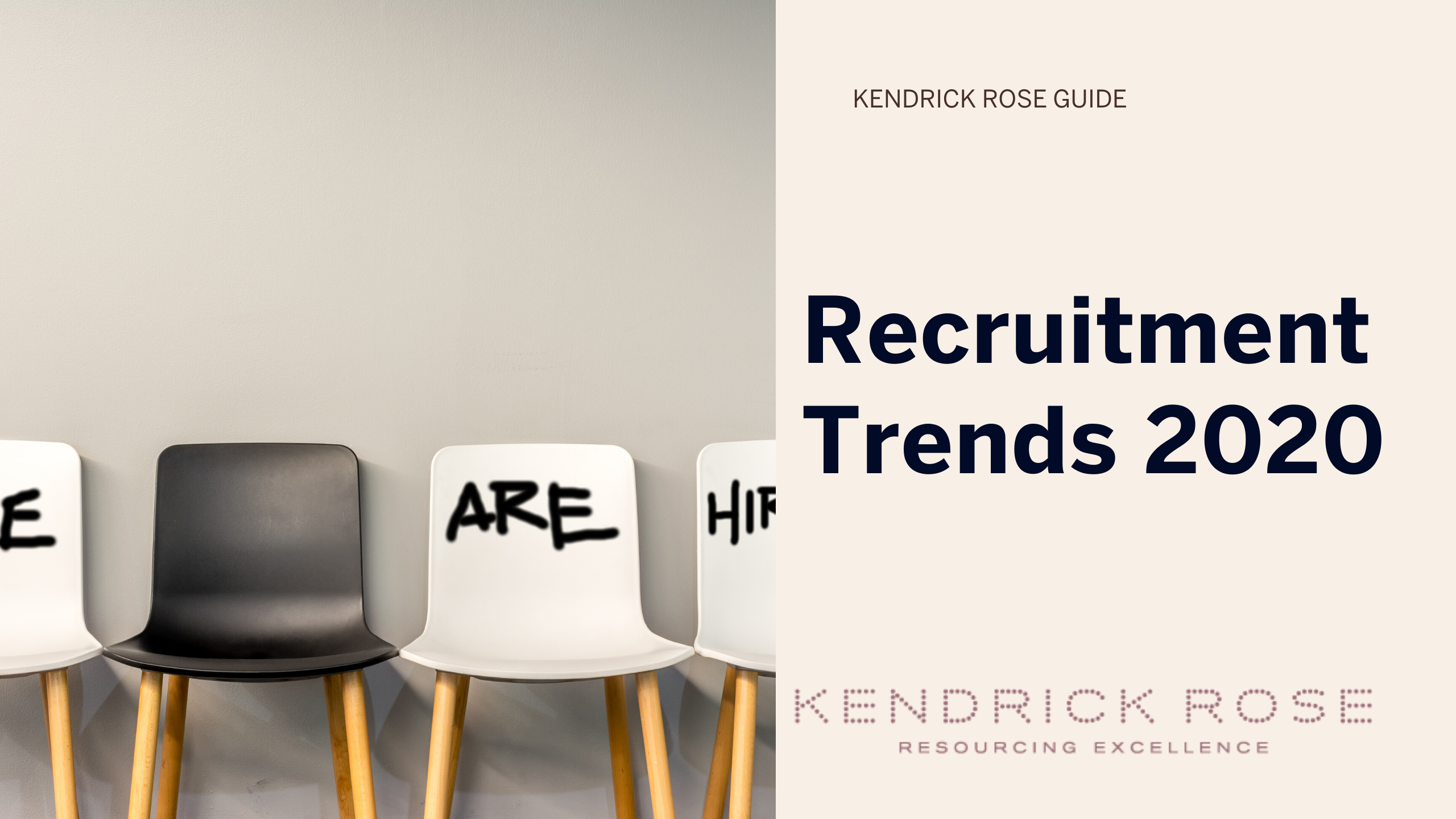 Recruitment moves in alignment with business, adapting to new legislation, new technology, and other changes in the world that affect the way we work. Just as every day in recruitment is different, every year brings new developments that make us refine what we do to ensure we continue to offer the best service for clients and candidates across the job spectrum.
Here are four recruitment trends to look out for this year.
Prioritisation of candidate experience
We live in a consumer culture, where customer experience is prioritised in many industries, so it should be no surprise this is becoming an even more important aspect of recruitment.
While good recruitment agencies are generally already well ahead in providing an excellent candidate experience, employers are recognising the need to tidy up their end.
According to Talent Board, people who are satisfied with their candidate experience are 38% more likely to accept a job. 62% of people who have had a good candidate experience would recommend an organisation to a friend, regardless of whether they received an offer, compared to 28% for those who were not satisfied. And 87% of people say a great recruitment experience can make them change their mind about an organisation they previously doubted.
The impact of a negative hiring experience on candidates is just as strong. A survey by PwC found 49% of job seekers would turn down an offer because of a negative candidate experience.
Easy wins to improve candidate experience include giving immediate feedback, communicating with candidates in the way they prefer (e.g. email or phone call or messages), and clearly outlining employee rewards such as salary, benefits packages, flexibility, and development opportunities.
Recruiters will play an increasingly important role in the candidate experience, helping ensure candidates receive the best introduction to potential employers, and making the exit process smoother and more pleasant for unsuccessful candidates.
Candidates who have had a good experience this way may remain in the talent pool and be open to other opportunities with the same employer when they arise.
Rise in hiring for soft skills
In a buoyant jobs market, employers may loosen strict criteria about skills and experience and look to candidates with the right soft skills who have potential.
Research by McKinsey suggests that as more processes become automated through Artificial Intelligence, demand for higher cognitive, social, emotional, and technological skills will rise.
By 2030, McKinsey estimates demand for advanced social and emotional skills across industries will grow by 22% in Europe and 26% in the USA.
These skills may include advanced communication, management, and leadership. Demand for entrepreneurship and initiative-taking will be the fastest growing area– with a 33% rise in demand in the USA and a 32% rise in demand in Europe. While demand for higher cognitive skills such as creativity, critical thinking, complex information processing, and decision making is predicted to grow by 19% in the USA and 14% in Europe.
According to the CBI, 40% of employees in the UK do not have the correct skills for their jobs, with 28% being underqualified, and 13% being overqualified. The Industrial Strategy Council predicts that by 2030, 20% of the UK workforce (seven million people) will be under-skilled for their jobs, with the greatest issues relating to digital skills, where two thirds of the digital workforce will be under-skilled.
Recruitment will increasingly focus on a candidate's capacity to adapt quickly to a changing workplace, developing the digital skills necessary to work with fast-changing AI.
Importance of brand and reputation
According to research by PwC, just 33% of employees would consider applying for a position with a brand they have never heard of. This resonates with research by Linked in, which found that lack of awareness of a brand was a major issue for hiring managers in Small to Mid-sized Businesses.
72% of recruiting leaders said employer brand had a significant impact on hiring, with 75% of job seekers considering an employer's brand before applying for a job.
Not knowing what it's like to work at an organisation is cited by Linked in as the most significant obstacle candidates face when searching for a job. While companies can't necessarily offer 'try before you buy' experiences for candidates, they can give potential employees a taste of what working in an organisation is like through their social media channels, videos about workplaces, and content on what employees do.
Smaller firms or start-ups may find it harder to compete with larger organisations on brand recognition, however, PwC found 71% of employees believe employer reputation is more important than brand.
Candidates care about authenticity and are three times more likely to trust company employees than a company in providing accurate information about what it's really like to work somewhere. This means size is not a barrier if an organisation has the right brand ambassadors.
Development of people analytics and strategic recruiting
Large organisations already have the data and the tools to interpret it, however, 2020 may be the year where people analytics moves from confirming strategy to driving it.
Back in 2017, Deloitte's Human Capital Report said 71% of companies saw people analytics as a high priority in their organisation, but only 8% reported they had good data, and only 9% believed they had a good understanding of which talent dimensions drive performance.
From a business perspective, people analytics is commonly used to assess productivity levels, however, data on attraction, engagement, and retention could be used to drive recruitment strategy. As firms get better at interpreting their data, they will be able to use predictive people analytics, using behavioural data to predict what will drive employee actions.
Data security and data privacy will potentially resurface as hot topics if organisations fail to guard their employee data correctly.
As firms get better at predicting what they need, they can develop longer term recruitment goals, allowing them to make better hiring decisions.
Closer links between hiring managers and recruiters will allow recruiting to become more strategic and proactive, recruiting for future requirements as they arise, rather than recruiting as, or after, staff leave.
At Kendrick Rose we work in partnership with clients in Jersey, sourcing candidates from various talent pools to address recruiting requirements for now and the future. To discuss your talent strategy for 2020, please get in touch!