10 Career-boosting talks to watch this year
Posted on 07/02/20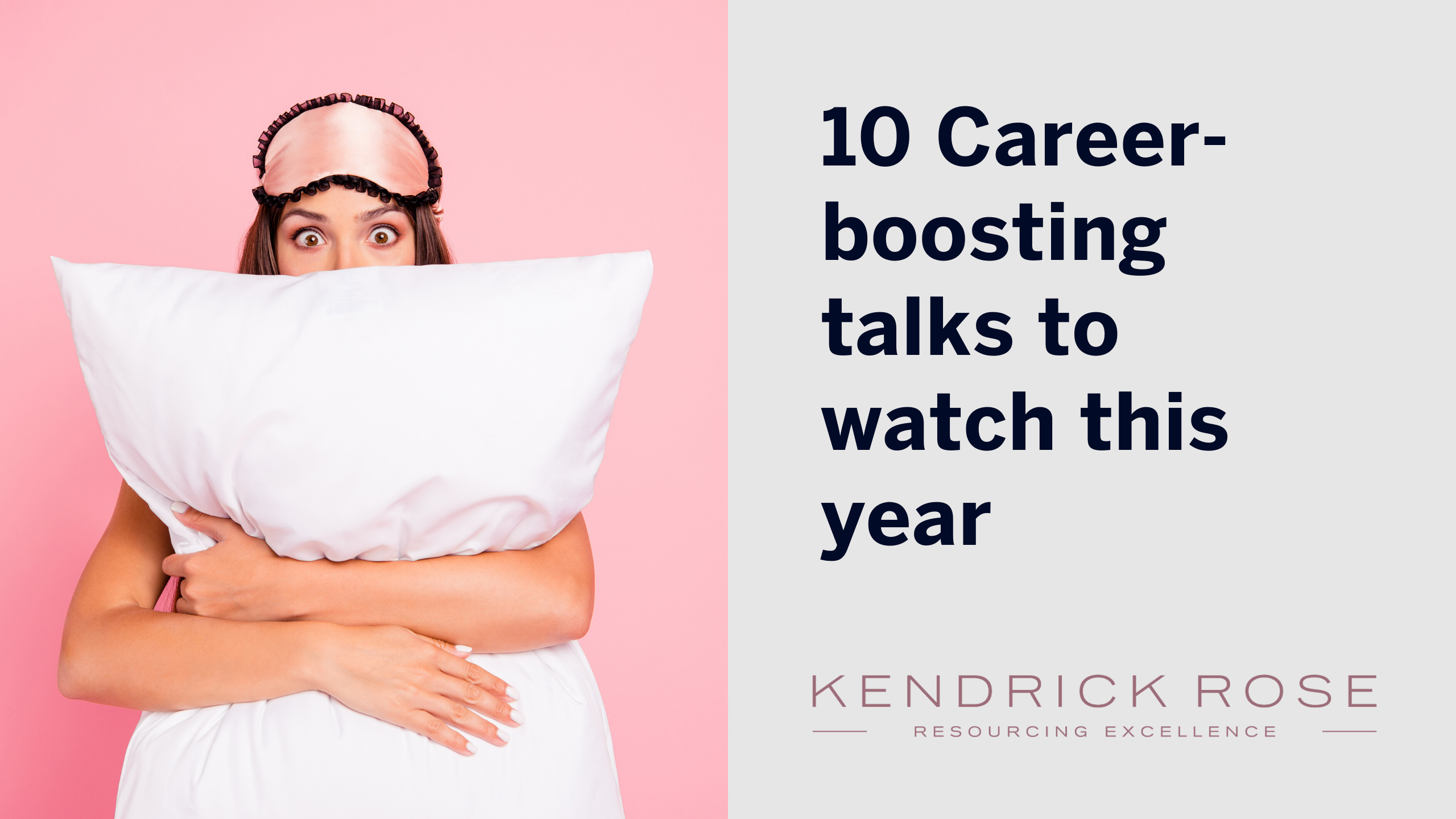 It's easy to fall into the black hole of social media; watching cat videos or dog videos, food videos, or really anything else that entertains and distracts. But what about if you could sit back and watch videos that could help you become more productive, that share insight from some of the smartest and most insightful people on the planet? For free?
TED talks sound too good to be true, but these 10-minute clips of wisdom can be watched without you needing to sign up, subscribe, or pawn half your biometric data.
Founded in 1984, TED, which stands for Technology Entertainment Design, began as a conference in Monterrey, California, and has spread to become a global conference brand, with over 3,000 online talks.
There are talks on almost any subject you can imagine – here are 10 of the most popular with ideas that could help boost your career.

Why 30 is not the new 20
Clinical psychologist Meg Jay explains how twentysomethings can reclaim the decade to set themselves up for work, love, and happiness.
According to Meg, 80% of life's most defining moments take place before the age of 35 and the first 10 years of your career have an exponential impact on how much money you are going to earn. With the brain rewiring itself after its last growth spurt in our mid-20s, this is a key moment to change or develop the habits we will have for the future.
Find out why 'identity capital' is essential to get where you want to be, why clustering with other twenty-somethings isn't a great idea, and how to 'pick your family'.


How to find work you love
Scott Dinsmore's talk opens with a confession about the worst career advice he'd ever received – a friend telling him not to worry about whether he liked the job he was doing, just to build his CV. After a couple more months doing something he hated, Scott came across another piece of advice, by Warren Buffet, that taking jobs to build up your CV was like saving up sex for old age. With that, he quit his job and set about working out how to create a career he could be passionate about.
Research by Deloitte indicates 80% of people don't enjoy their work. After interviewing people about their careers, and asking people why they did their job, Scott concluded that to enjoy your work, and find a purpose you need to know what you're looking for – something that depends on your unique strengths, values, and experiences.

What motivates us to work
It's all about the money, the money, the song goes. But is it really? Behavioural economist Dan Ariely analyses what motivates us to work.
Dan looks at the value we place on what we do, using experiments involving origami and Lego, to show that the more effort we put into something, the more we value it.
In a global economy, where many of us work as part of a process, the 'value' may be less tangible, but it's something we can all still find.

Sleep is your superpower
Did you know that a lack of sleep can age a man by a decade in terms of testosterone levels? Or that lack of sleep has similar negative effects on female reproductive health? These are just a couple of insights Brain Scientist Dr Matt Walker highlights in this talk on the power of sleep.
Planning on learning anything new? You need sleep before learning to prepare your brain for new memories, and sleep after learning to keep those memories. Indeed, experiments show the brain is 40% less capable of making new memories when it is deprived of sleep – something to consider before booking a red eye flight for an important meeting or staying up late to finish a project.
The research also has important implications for aging and dementia and slowing down the effects of memory loss through better sleep.
Thinking about an early night? When the clocks shift forward in spring for daylight saving, hospitals in northern countries see a 24% increase in heart attacks, while when they move back in autumn, they see a 21% drop.

The career advice you probably didn't get
Fed up of being in middle management? Want to move up? This talk is for you.
Susan Colantuono, Founder of Leading Women, looks at helping women close the gap to move up to reach the top of an organisation.
According to Susan, the gap requires being recognised for your leadership skills – you need to use your skills and talents by working with others to help the organisation achieve its strategic values and goals.
Being smart, hardworking, committed and resilient, being able to work with teams, communicate, and work with clients are all just differentiators from career start to middle management.
The most highly rated skills for 'achieving and sustaining extraordinary outcomes' are business, strategic and financial acumen – the missing 33% for career advancement to the top.
Dare to disagree
In the 1950s, Dr Alice Stewart discovered a link between childhood cancers and women being X-rayed during pregnancy. The information was out there but it took 25 years for the practice to stop.
In this talk, former business CEO, Margaret Heffernan, takes this as a key example why openness alone cannot drive change.
Alice worked with a statistician called George Kneale who focused on trying to prove Alice wrong, because if he couldn't, it gave Alice the confidence to know she was right and challenge the medical establishment.
Constructive conflict takes energy but can lead to better outcomes for business, like for science. However, as Margaret explains, managing conflict takes skill if you are to stand up to an organisation and be seen as a leader rather than a 'whistle blower' or a 'crank.'

Your body language may shape who you are
There's lots of research into how a person's body language affects judgements we make about them, but what if our own body language could affect the way we think about ourselves?
Social Psychologist Amy Cuddy presents her findings, highlighting the postures that could help us become more confident.
In MBA classes, men and women come in with equal grades but a grade gap appears due to participation. Amy researched whether 'faking' confident body language could lead to students feeling more confident in participating.
In Amy's experiments holding a typical high-power posture for two minutes resulted in a 20% increase in testosterone levels and a 25% reduction in cortisol levels, while low power postures resulted in a 10% drop in testosterone and a 15% increase in cortisol.
Embrace the near win
Success is a moment, but mastery involves celebrating 'the gift of a near win.' Art Historian Sarah Lewis uses examples from the art world we can take as lessons for business … and for life.
Paul Cezanne only signed about 10% of his works, Franz Kafka wanted all his writing to be destroyed upon his death, Duke Ellington said his favourite song was the one he was yet to compose.
The better we get at something, the more we know what we can't do – something known as the Dunning-Kruger Effect.
Coming second gives Olympic medallists a greater focus on getting gold. It's getting the clarity to know what to do next to achieve more. As Sarah puts it, 'coming close to what you thought you wanted can help you attain more than you ever dreamed you could.'
How to make applying for jobs less painful
75% of people applying for jobs last year in the USA never heard back, while 46% of people got fired or quit within the first year of starting their jobs.
Technologist Priyanka Jain dishes the horrors of applying for jobs, looking at how Artificial Intelligence may help people pick jobs they are better suited for.
In her talk, Priyanka explains why CVs are better suited to jobs of the past, and why multi-measure tests and algorithms built around top performers may be better when recruiting for the jobs of the future.
How to stay calm when you know you'll be stressed
We all make mistakes when we're stressed; high levels of cortisol impair the way our brain functions. However, rather than having to do a post-mortem when things have gone wrong, what about doing a pre-mortem, looking at what could go wrong so you can avoid it?
Neuroscientist Daniel Levitin charts how we can steer our brains away from making critical mistakes during stressful situations when our thought processes are clouded by increased levels of cortisol.
While going to a job interview isn't quite the same as being chased by a lion, the cortisol rush we get in any stressful situation can impair our thought processes.
Daniel's talk looks at why thinking about scenarios – from losing your keys to needing an operation - before they occur can help us achieve a better, more rational outcome.