Understanding the global jobs boom in relation to Jersey's jobs market
Posted on 30/05/19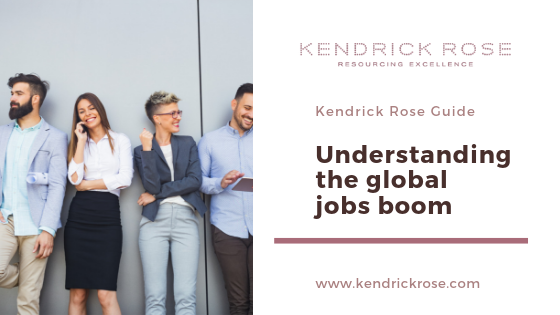 We often talk about the difficulties employers in Jersey face finding qualified staff in an island market with low unemployment. However, a recent editorial in The Economist helped put the issue into perspective from a global level.
The cover story, 'The great jobs boom' looks at the 'record' employment figures in OECD countries which have seen over 43 million new jobs come to the market over the past five years, creating some of the highest employment rates recorded in the world's wealthiest countries. This includes America, where the unemployment rate is 3.6% - the lowest in 51 years; the UK where the unemployment rate is 3.8% - the lowest since 1974; and Germany, where it is 3.3%.
The average unemployment rate for OECD countries is 5.2%, for Q4 2018, with the highest rates in South Africa (27.2%), Greece (18.4%), and Spain (14.5%).
In Jersey, the number of people registered as Actively Seeking Work (ASW) for the first quarter in 2019 was 70 fewer than for Q1 2018, with a total of 840 people, while the number of long term ASW (unemployed for more than 12-months) was down by 10 over the same period to 200.
While some of the issues driving jobs growth in Jersey are unique to the island, many others have parallels with global trends.
Changes in demographics
Today's employment rate is not comparable with the past because of changes in demographics. According to The Economist, in the 1980s 25% of the OECD working-age population was aged 15-24, now it's 17.5%. As young people are less skilled, younger people are more likely to register as unemployed, so a reduction in younger workers may contribute to lower unemployment rates.
In Jersey, however, young people constitute one of the lowest proportions of those who are unemployed, with under 25s making up just 14% of registered ASW for Q1 2019 – a total of 120 individuals.
High levels of net inward migration mean global trends may not affect Jersey in the same way.
Census figures show that over the past 10 years the resident population of Jersey has increased by 11,500 to 105,500, with 77% of this growth attributed to net inward migration. Unlike natural population growth, where an increase in the birth rate requires a time lag of nearly 20 years before people become economically active, when migrants move for work, the effect on the work force is immediate.
Changes in recruitment advertising
Online advertising and social media make it easier to distribute job adverts to a more targeted audience than the print adverts of decades gone by. Whether an employer is advertising new positions directly, or through a recruitment agency, the chances of the right people seeing a new opportunity and applying for it are much greater.
At Kendrick Rose we advertise all our positions exclusively online – through media platforms and through our own social media platforms. We are aware of the changing nature of social media use and have shifted our job postings to where potential candidates are now – embracing visual platforms such as Instagram.
Even in a more niche area such as executive recruitment, social media is an important way for people to find out about new opportunities.
Rise in highly skilled roles and lower skilled roles
Jobs that require a middle level of skills have been the greater losers over the past couple of decades, but the increase in jobs that require higher levels of skills (e.g. tech) and lower levels (e.g. services), make up in figures for the loss of jobs in, say, manufacturing.
Jersey's jobs market is already defined along these lines with financial services, legal, and professional services all requiring highly skilled staff, and tourism and agriculture requiring more lower skilled staff. As the Island does not have significant industry, the loss of middle skilled jobs will affect the Island less than parts of the UK or the USA.
The latest Labour Market Report shows the total number of jobs in Jersey is 60,900 with a 1.9% rise in jobs in the Island from December 2017 to December 2018. The largest growth area for jobs was finance and legal, which added 300 new roles. This was followed by education, health, and other services (up 220), construction (up 180), hotels, restaurants, and bars (up 170), and miscellaneous business activities (up 170). The public sector total remained unchanged, while the only sector to decline was wholesale and retail (down 40).
One of the biggest areas seeing growth was fund administration, which added 110 new jobs last year. These are all skilled roles, and while some are graduate jobs, most require highly trained, experienced staff.
Wages are rising … but primarily at the lower end
According to The Economist the value of the minimum wage has risen in 24 OECD countries from 44% of a full-time median salary in 2000, to 50% today.
Minimum wage rises plus increasing social costs for employers mean the cost of employment has gone up, however a slower rise in productivity means overall pay is not rising as quickly.
In Jersey, average weekly wages grew by 3.5% last year according to the Index of Average Earnings Report. Wage growth in the Island over the past five years averages 2.3%. The biggest pay rises in Jersey were for construction (6.7%), agriculture (5.7%), and hospitality (4.3%). Financial services workers saw average pay growth of 2.9%, however, these figures do not include bonuses.
Average weekly earnings ranged from £1,020 a week in financial services to £440 a week for hospitality. When allowing for rises in the cost of living, real term pay growth increased by 18% from 1990 – 2001 in Jersey and has been flat since.
Automation will affect jobs
The most significant game changer for employment is still potentially to happen. Automation, Artificial Intelligence, Machine Learning – call it what you want - but the development of more sophisticated software, algorithms, and computer operated processes will impact the way we work, and the type and quantity of jobs available.
As it's still hard to know what potential AI has, as it becomes integrated into everyday business, and everyday life, it's hard to know how it will really affect jobs.
However, a recent study by PWC, which analysed over 200 jobs in 29 countries predicted 3% of jobs would be at risk of automation by the early 2020s during the first wave of AI; 19% of jobs would be at risk of automation by the late-2020s during the second wave of AI; and 30% of jobs would be at risk of automation by the mid-2030s.
The report divided the waves of AI into algorithmic, automation, and autonomy, with each tranche affecting different genders and skills sets in different ways.
While the report doesn't include Jersey, two points jump out that are particularly relevant for our island. Firstly, financial services jobs could be particularly vulnerable to automation in the shorter term (up to late-2020s). Secondly, less well-educated workers are most vulnerable in the longer term (mid 2030s), where up to 44% of less well-educated workers globally could be out of a job.
While automation in financial services may lead to some workers having to move to other sectors, there are still likely to be jobs – all be it perhaps not so well paid. Once the lower skilled are put out of work, a small state such as Jersey may find significant strains on finances.
'Education, education, education' may have been the mantra of Lenin, but investing more in education, in training, and in development appears to be an economic necessity if everyone is going to have the opportunity to find work in the Jersey jobs market of the future.