Nine networking mistakes to avoid if you want to grow your career and contacts
Posted on 15/12/19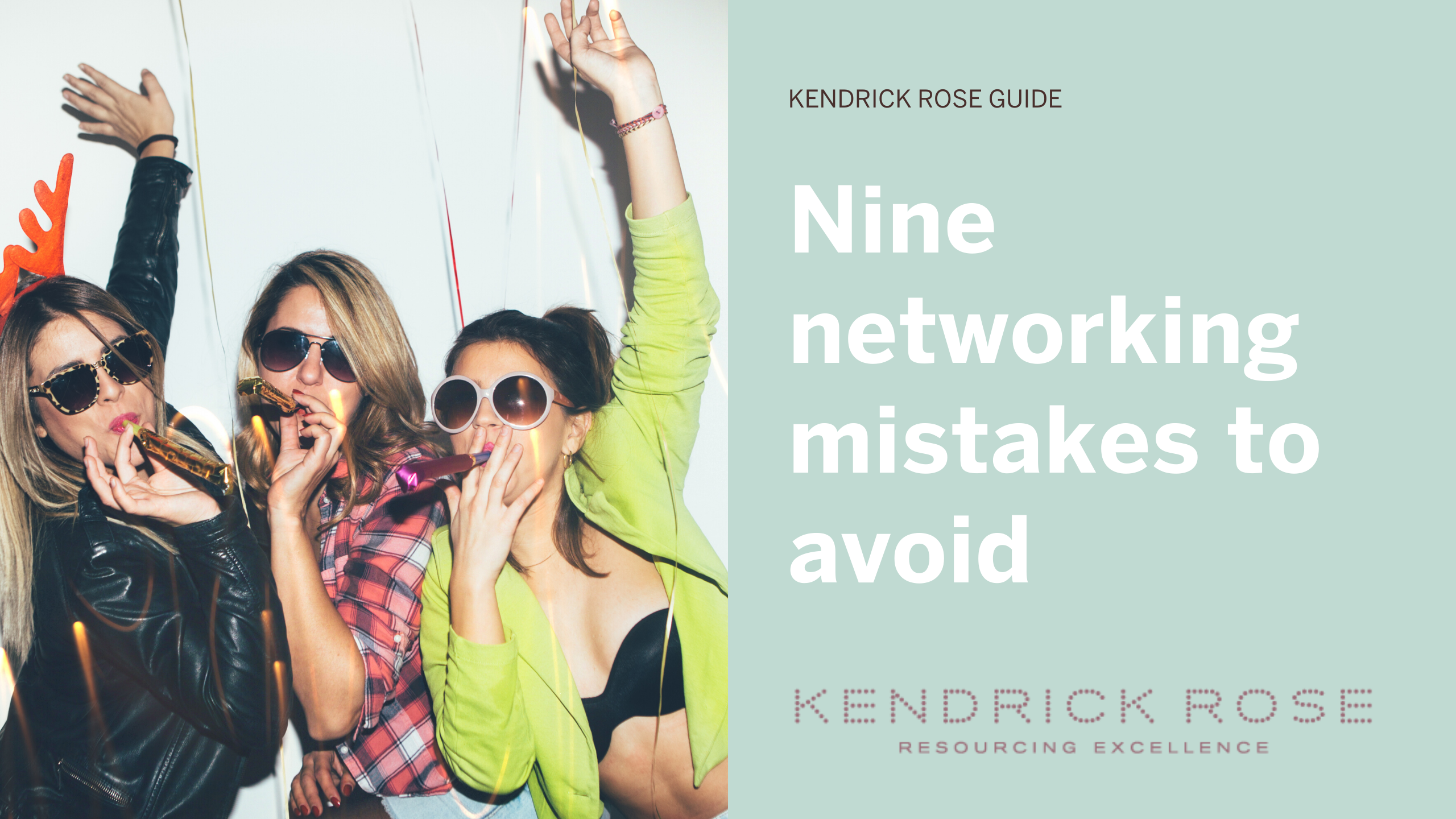 Networking may be a term that started with computers, but for most of us talking to people we don't know can be harder to master than your average IT system. Who do you speak to? What do you say? Networking is a skill some people find easier than others, however, learning how to do it properly can make a real difference to your career … and even end up being fun!
We've attended and hosted a lot of events during our time in HR and with Kendrick Rose, events that have brought us fantastic opportunities – new business, new candidates, new friends, and new ways of looking at life. All possible because we've taken the time to speak to people.
Networking is a powerful tool for gaining access to new people – something we all need to do at many points in our lives. Even as children, many of us will have been networking without realising it – talking to follow pupils in the queue for lunch, getting to know those sitting around us in the classroom, joining clubs or taking part in activities. Our social lives often start by going out and doing something and getting to know the people there.
And it's no different for our careers. Sure, you can find out about new job opportunities on line, but chatting to someone who works for a company long before you even think about applying for a job gives you a much better sense of whether it could be the right place for you.
Here are nine common mistakes we all make when networking, and ways to resolve them:

Networking gaffe one – Not speaking to anyone
There's nothing more painful than standing in a room where everyone else looks like they're enjoying themselves and not feeling like you can speak to anyone.
People who go to events with a colleague or friend have an easier starting point. However, just as people don't usually go out to dinner to eat what they could have at home, people who attend events together are often delighted to speak to someone else too.
Conferences and many events have networking opportunities – often around coffee or drinks during breaks – making it easier to break the ice with a few pleasantries.
Before an event think about how you might come across to people. Take time to research the venue and content so you can dress appropriately for the tone and temperature. Bring a few business cards, charge up your phone, and prepare to smile!

Networking gaffe two – Pushing the hard sell
The real secret to networking is that it's never about trying to sell, or pitch so just let all that stress that you put on yourself about having to sell when you get to an event go away.
Networking is about creating an opportunity to meet the right person after an event. Just take the time to get to know a person, learn about them, qualify their needs and then suggest a coffee.
If they've come to know, like and trust you during the event, they'll agree to a coffee. Then you have their time and attention and the space to position yourself. Networking is about creating access – the most valuable thing you can get today. From access comes attention. From quality attention comes the opportunity.

Networking gaffe three – Not knowing why you're there
We're not talking philosophy, but finances. Going to events costs time and money. There's no point investing your resources unless you have a clear idea of why you're doing something, and what you want to get out of it.
Networking is like any business meeting – we must have a clear outcome or objective for being there in order to have a chance of getting a return on our investment. This could be as a:
Growth strategy – an effective means of growing new business and key stakeholder contacts/internal & external.
Client-retention tool - use the event to connect with and show an interest in the industry or profession of your existing clients – and use them to refer you to other people.
Brand-building tool - our brand is 'what people say about us when we're not there'. Get people to know, like and trust you by not selling to them, and gain access to the opportunities that can make a difference in your career or business.

Networking gaffe four: Going to the wrong events
Many of us tend to just 'show up' at networking events with no real plan as to why we are there. Sometimes we've just been pressurised to show our face.
Be very clear what events you want to show up at - is a professional necessity that delivers significant value?
Reflect carefully on where you attend. What are your niches? Who are interested in meeting? Have you existing or mutual contacts? Are you networking to meet a particular professional, or business type, or executive?
While we may meet some contacts at a general networking events, by picking specific niche events, you're more likely to encounter people you would like to meet.


Networking gaffe five: Pushing your way in
Networking is never about us – it's always about the other person.
The purpose of networking is getting the other person – in a short space of time– to get to know, like and trust you enough that they'll agree to a cup of coffee after the event.
We make that happen by ensuring that we engage with them in as professional and as polite a way as possible.
It's important you take care to manage the emotional state of the person you have just met. You want to appear open, engaged and respectful –and never forceful, pushy, or in their face.
With that in mind, asking people's permission to engage is a lovely way to start the conversation. When we meet people for the first time, we start the relationship on the best footing when we do so with their permission.
If you want to connect with anyone at an event, simply ask: 'May I join you?'. If you've chosen the right person based on your understanding of group dynamics at work in the room then the answer will always be 'yes'.
A simple request, followed by permission to connect is a powerful way to start any new relationship.
Networking gaffe six – Thinking everyone is your BFF
Kisses, handshakes, and hugs. Greeting people is a minefield that even princesses can't avoid. Who remembers the awkward scene of the Duchess of Sussex going in for a hug, when the person she was greeting on stage was preparing to curtsey?
Thankfully most of us have it easier than royalty – bowing and curseying are off the agenda for most business events in Jersey, although grovelling and turning the other cheek may sometimes be required form.
If you're meeting someone for the first time, a handshake works best for all sexes. Kisses and hugs are best kept for social greetings or people you know well.

Networking gaffe seven – Boring everyone senseless
People love to talk about themselves, so what better way to take the pressure off than by giving them the opportunity? There is a saying that if you want to be interesting to someone – first show interest in them.
Rapport is essential to building trust with someone else. Finding things that we share or have in common with someone else is a powerful way of reducing threat in a new relationship. The old secret of rapport is that people like people who are like them. So, the more like someone you can appear to be – then the more likely they are to like you.
While you can study the psychology of first contact there is a very simple way of doing it at a networking event: ask universal questions.
Universal questions are themes that we share with others such as interests or holidays, the event and travel to it, positive current affairs or industry news. These are themes we can all share and have an opinion on.
Open questions such as How, What, Where, Why, When and Who are great tools which guarantee us the full attention, involvement and engagement of the other person – and when those questions are based on universal and non-threatening themes – then we encourage the other person to chat away and relax into being with us.

Networking gaffe number eight – Dumping someone when you want to move on
No-one likes getting dumped, especially when you're a long way from a sofa binge of Killing Eve and a giant tub of Ben and Jerry's. However, when the conversation fades and it's time to move on to the next person it can be a challenge to work out how to exit.
One of the things we need to avoid is the moment when it becomes obvious that the conversation and the initial connection is over, but no one knows how to end it.
The answer is that we give them the exit. Something like: "I am going for a coffee (glass of wine!) –would you like to join me?" or "I'm going to the buffet – would you like to join me?"
By asking this question you are giving the other person permission to decline your kind invitation and move on – leaving you free to continue your networking.
Of course, there are those people who will say "Yes! I'd love to …!"
It is important that we never 'dump' people – abandoning them when we are finished with the conversation or leaving them standing alone while we move on to our next contact
Professional networkers always know how to sensitively handle these situations by 'parking'– and are always able to follow-up successfully with everyone they meet at these events, building networks of contacts that stand them in good stead throughout their whole career.

Networking gaffe nine – Failing to follow through
Recent research indicates our attention span has fallen as low as nine seconds; shorter than a goldfish! We know that one of the biggest industries in the world, advertising, is all about seizing just a few moments of our attention.
Everything that you have done while networking is to this purpose – getting a 'cup of coffee' – and thirty minutes of undistracted attention from a key prospect or potential referrer.
Think about that – thirty minutes, at least, of qualified attention from a valuable prospect or a key internal stakeholder in your organization, or a potential referrer of business.
It's therefore astounding how many people fail to follow up afterward with the suitable and qualified contacts they meet at an event.
Self-doubt has a lot to answer for in this regard. Check it in and liberate yourself by thinking about what you are offering the other person.
Networking is a two-way process. Everyone has something to offer and over the long term you generally get back what you put in, not just by what people can help you with, but by the satisfaction you can get from being able to help others.