Jersey firms should consider dropping 9-5 and develop flexible working if they want to retain staff
Posted on 22/10/19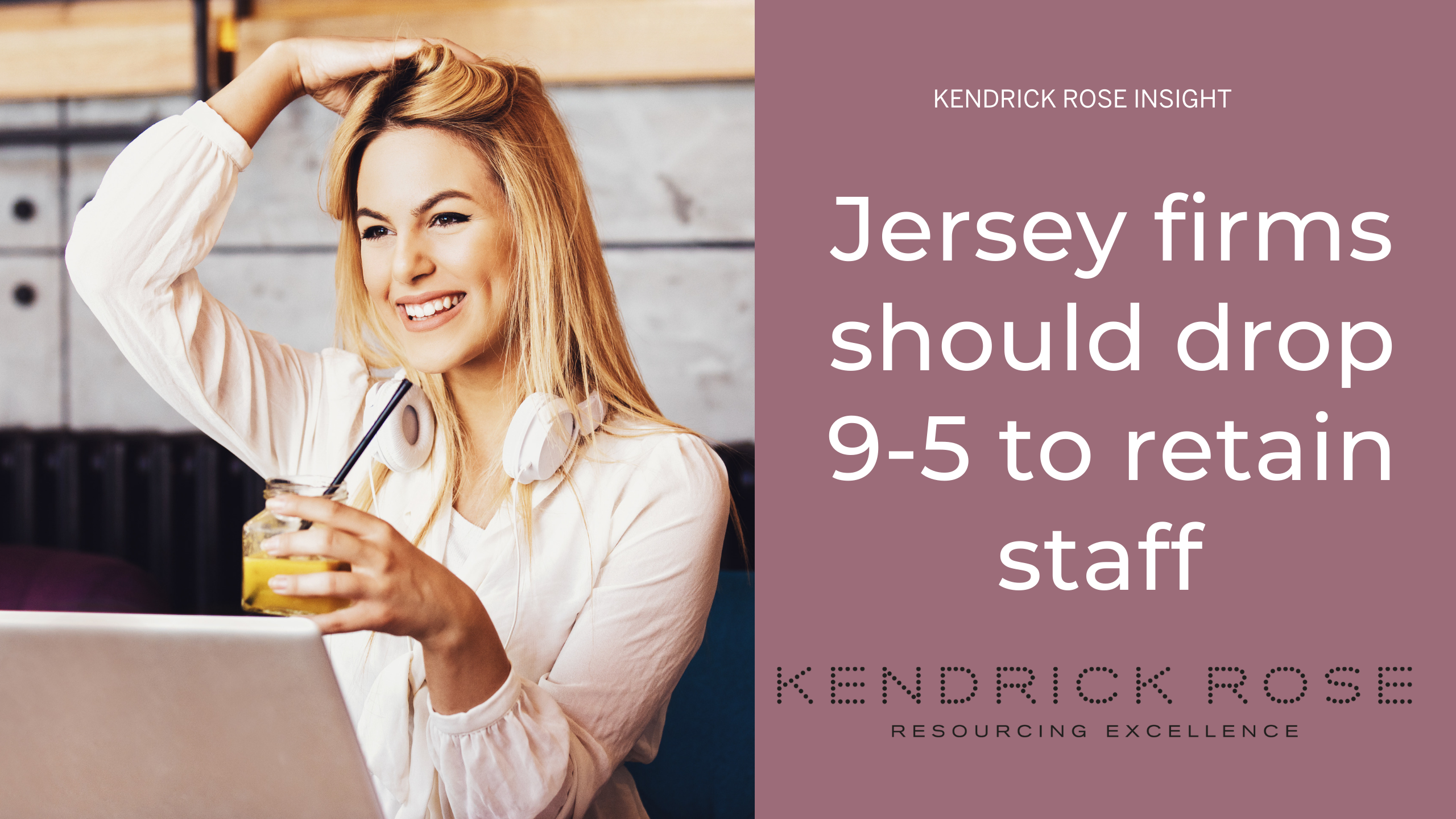 Organisations in Jersey should drop 9-5 and develop more flexible working patterns for employees if they want to retain talent and attract Millennials and Gen Z.
A survey by Kendrick Rose found 86% of workers think their employer should drop 9-5 working.
97% of people surveyed by the recruitment consultancy said they would be more likely to stay in a role for longer if their employer gave them a greater degree of flexibility, with 35% saying remote working or working from home would be the most significant thing their company could do to help them enjoy their job more. This came ahead of improving employees' work life balance (32%), increasing salaries (18%), upgrading the office environment (8%) and investing in new technologies (7%).
Flexible working is such an important issue for Jersey workers that 74% of those surveyed would be prepared to consider going freelance or becoming self-employed to gain a greater degree of flexibility. 20% of these would be prepared to leave their job and go freelance even if it meant risking a lower pay level and benefits.
However, appetite for freelance work varies greatly across professions. 89% of those working in marketing and media would be prepared to work for themselves compared to 58% of those in the Public Sector. People in HR and Recruitment have the lowest level of natural inclination for freelance work, with 33% saying it wouldn't suit them in terms of personality or lifestyle, while 17% of Finance workers wouldn't consider going it alone because it wouldn't suit their career.
Freelance work is less tempting for people who are not in managerial roles. Of those who are not in managerial roles, 26% said freelancing wouldn't suit their lifestyle or personality, while 14% don't think it would suit their career.
Finance workers put in the most hours of unpaid overtime with 39% occasionally working unpaid overtime if required, compared to a cross-profession average of 21%.
44% in Finance work at least one extra hour per day (36% cross-profession average) with 24% (16% cross-profession average) admitting they work too many extra hours to bother counting – the highest proportion for any profession surveyed.
Shelley Kendrick, Managing Director, Kendrick Rose, said: "9-5 is no longer the reality for many workers in Jersey – either due to more varied working times or unpaid overtime that extends the working day.
"A traditional 9-5 working day may remain the model for many firms, but those who are open to more flexible working patterns, and who are prepared to embrace a mixture of freelance workers and employees, will have their pick of the best talent."
The Kendrick Rose Autumn Survey also found that choosing your own hours is more achievable for people in Jersey the further their careers have progressed. 34% of people in senior roles agree they have more scope to choose their own hours compared to 18% who find it harder to choose their own hours the more senior they become. The greatest level of flexibility for more senior roles came in Law, Professional Services, and Finance.
Jersey's survey results tie in with global trends. According to Mercer's 2019 Global Trends Report, 82% of workers they surveyed around the world would be willing to consider working on a freelance basis while 79% of executives believe freelancers will substantially replace full time workers over the next few years.
Figures from the Association of Independent Professionals and the Self Employed (IPSE) show freelancers make up 6% of the UK workforce, however, numbers are rising fastest among specific demographics.
The number of female freelancers in the UK has grown 55% since 2008, with an increase of 79% for new mothers, while the number of freelancers aged 26-29 (Millennials) has grown by 66% since 2008.
Shelley said: "Many businesses in the Island may operate flexible working in theory, but it needs to work at a practical level to be of value to employees and appeal to younger generations entering the workplace and growing their careers. Jersey professionals place such a high value on working flexibly that many would be prepared to consider freelance working or self-employment to achieve it.
"It's interesting to see that from the people we surveyed, the opportunity to work remotely or from home ranks above salary increases for the majority. While there are clear differences in appetite for freelance work among different professions, a very high proportion of people across all areas of business may be prepared for change.
"Businesses in Jersey can either see this as a problem, and stave it off for as long as they can with incremental changes, or can seize the opportunity and transform the way they look at employing staff to be ready for Gen Z and an era where many more tasks will be completed by AI."
"Many businesses in the Island may operate flexible working in theory, but it needs to work at a practical level to be of value to employees and appeal to younger generations entering the workplace and growing their careers. Jersey professionals place such a high value on working flexibly that many would be prepared to consider freelance working or self-employment to achieve it." - Shelley Kendrick, Managing Director, Kendrick Rose