How to survive summer in the office
Posted on 29/07/19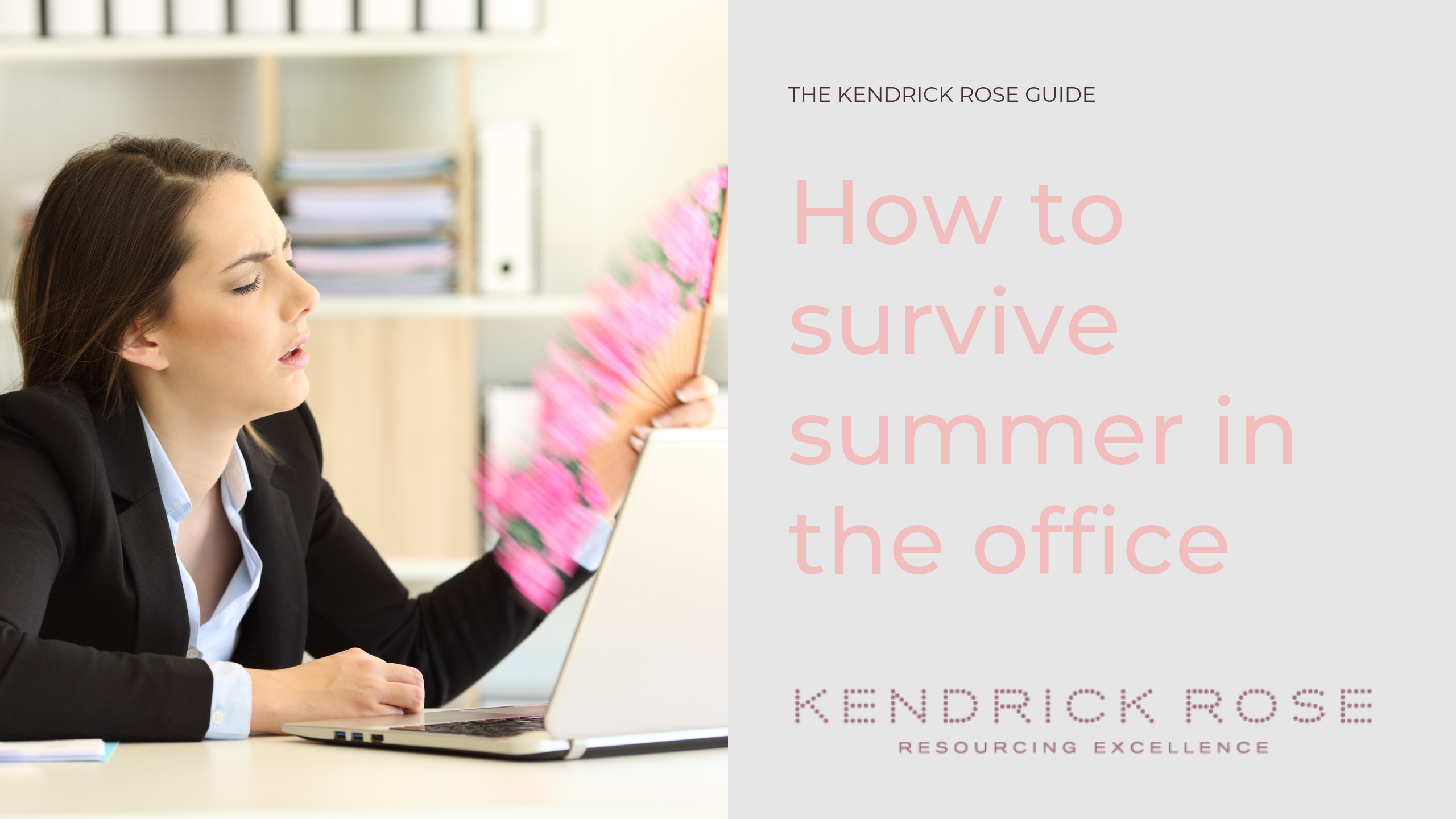 Hot is relative, but when temperatures top 35C in Jersey, and 38C in the UK, you don't need a thermometer to tell you it's rather warm.
While sunshine and heat might sound divine for a trip to the beach, going into a sweltering office is a lot less tempting.
In some parts of the world, taking most of the summer off is one way to solve the problem. In France, some businesses close or run ghost-ship operations during August when employees might take three- or four-weeks holiday. In Sweden, residential areas of Stockholm are deserted in July when locals leave for their summer houses. And in Italy, where children get a 12-week break, many parents save up holidays and take a month at the beach.
The tradition of taking a long summer break comes from the manufacturing era, when it made sense for factories to close for a month to complete maintenance and upgrades rather than remain open with fewer workers.
There are no laws in the Channel Islands or UK to stipulate what temperatures are unacceptable for workers, however, the Trades Union Congress (TUC) thinks employers should be obliged to adopt cooling measures for a workplace when indoor temperatures reach 24C, with indoor temperatures for strenuous work capped at 27C and for other work at 30C. It has also called for organisations to relax dress codes and allow staff to work flexible hours when temperatures soar.
Shelley Kendrick, Managing Director, Kendrick Rose, said: "Taking time off when the weather is hot is the ideal, but for those of us having to work, it's about managing the situation. Employers should recognise the needs of employees during very hot weather and do what they can to make their working environment as pleasant as possible.
"We live in a climate where extremely hot, or indeed, extremely cold temperatures are quite rare, so it doesn't necessarily make sense for a small business to make a massive investment in new systems, but it doesn't cost much to be flexible – letting employees wear what makes them feel comfortable and perhaps letting them go home earlier if the office is too hot.
"Employees in Jersey have a lot of choice about where they work and if an employer doesn't offer a pleasant working environment, they risk losing staff to an employer who does."
Heat control
At least 65% of UK offices and 30% of retail spaces have air conditioning, although that is likely to increase as summers get hotter.
Air conditioning feels like bliss at first on a hot day, but if it is set too cold, those wearing lighter clothes may not just find it a bit chilly, they might not be able to work so well.
A study by the University of Southern California (USC) found women perform better at cognitive tasks in warmer temperatures, while men perform better at cooler temperatures. The temperature variables tested were from 16C to 32C, with women putting more effort into maths and verbal tasks as temperatures rose.
While it's hard to find a temperature that is optimal for everyone in a workforce, the USC researchers recommend setting the thermostat at 24C for a mixed-gender workplace.
Workers in buildings without air conditioning have to be more proactive to reduce temperatures, opening all windows and internal doors, and closing blinds to reduce the amount of sunshine entering rooms.
Building design has a huge impact on how comfortable an office feels during heatwaves – double aspect buildings, with opening windows on two sides, allow a through draft. For single aspect buildings, portable fans may be the only way to create air flow.
Dress codes
Walk around St Helier on a Friday in summer and you might see the chap who left his office the night before in a suit and tie, strolling back into work in shorts and flip flops. Dress codes vary greatly between firms, but, with so many companies adopting dress down Fridays, the boundary between what is acceptable or unacceptable office attire has already been blurred.
Organisations are generally moving towards more relaxed dress codes, with bastions of smart such as Goldman Sachs and JP Morgan embracing flexible dress codes in recent years, asking employees to use good judgement over when casual dress is appropriate.
With Millennials and Gen-Z making up 75% of the workforce in places such as Goldman Sachs, informal dressing is another way of making a job more appealing and attracting and retaining talent.
Jersey firms are already ahead of the catwalk for relaxed dressing. Most business executives dropped ties in favour of open shirts and jackets long ago, while women can pretty much get away with anything smart that suits them.
While in winter, it's generally too cold for anyone to accidentally wear something too revealing, in summer, there will be grey areas. Are strappy tops or floaty sundresses acceptable for the office? Can one wear open-toe sandals? Denim hot pants? Hmm, maybe the last one is a clear 'no' for most firms in financial services or law, but for someone in a creative agency, it's a different story.
Flexible working
Working hours in places that expect to be hot make allowances for times of day when people are not likely to be so productive. In southern Spain, employees start work earlier in summer, take a long lunch break with time for a siesta, then return to work in the evening.
While changing an entire working schedule is not necessarily practical for a few hot weeks a year, we can still learn from our continental colleagues during heatwaves.
Aim to schedule your most difficult tasks for early in the day when its cooler and you feel fresher. At lunchtime, get outside and find somewhere shady to sit, or go for a swim to cool down. Then, use the afternoon for team tasks, admin, or planning.
Research by the CIPD (Chartered Institute of Personnel and Development) found 70% of employees are tempted to call in sick during a heatwave. Clearly most don't, as despite temperatures rising, the number of sick days taken is at an all time low, with an average of 5.9 days per employee per year. However, employers should consider letting staff work at home if the office is unbearably hot. When temperatures drop again employees will return in better spirits than if they had been cooped up in a sweaty room.
Travelling for work
Buckled rails near London, air conditioning failures on Eurostar, air traffic control issues, airport fuel issues, pilot strikes, and melted tarmac are all issues travellers and commuters have to deal with during hot weather in the UK.
Although we're very lucky in Jersey not to face endless commutes in the island, many of the problems afflicting British travellers affect us all when we visit the UK.
With many Jersey firms having strong links to the UK, some of us regularly travel back and forth between London and Jersey offices. Our 'commute' may then involve four or five forms of transport per trip, planes and trains, cars and taxis … and even the tube, where temperatures on the Central Line – one of the oldest lines – can reach 40C.
When rail companies issue warnings to commuters urging them not to travel because of delays, trips from Jersey are likely to be even more unpleasant no matter what you wear or how many bottles of water you carry.
Reschedule for September, or pencil in a conference call. Business might be 24/7, but if it's too hot to travel, you're likely to arrive rumpled and disgruntled.
A month at the beach might not be an option for most of us, but the odd team meeting there might make summer in the office more manageable.
"Taking time off when the weather is hot is the ideal, but for those of us having to work, it's about managing the situation. Employers should recognise the needs of employees during very hot weather and do what they can to make their working environment as pleasant as possible. " Shelley Kendrick, Managing Director, Kendrick Rose