Find your back-to-work mojo!
Posted on 03/09/16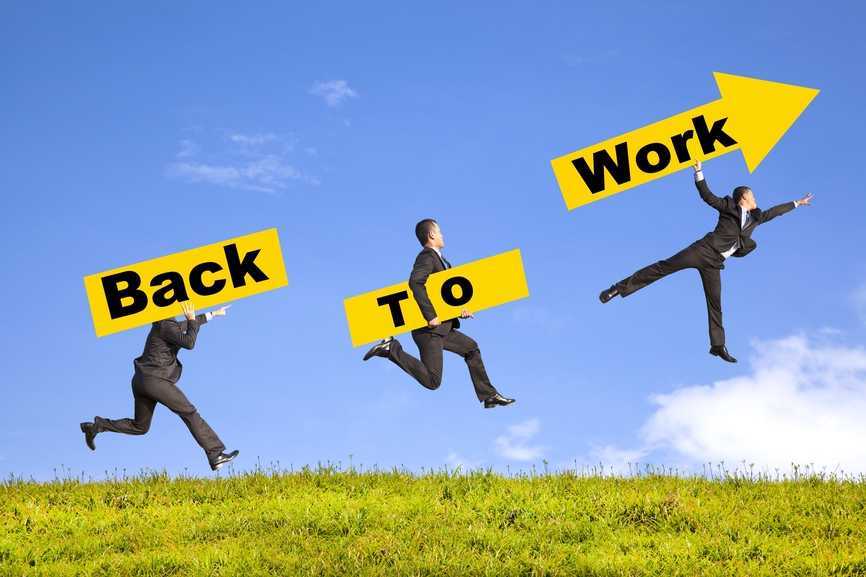 Remember the back to school feeling after the long summer holidays? Well going back to work has a similar set of emotions: it's goodbye to the beach, sun, sea and sleeping late and hello to alarm clocks and emails.
Post-holiday blues are a common pyscological factor, leaving many of us unmotivated and feeling blue.
But, it doesn't all have to be doom and gloom. Autumn can be a time to find career fulfillment and refocus our energies.
Here are some top tips:
Match work to your natural rhythms
Identify the times you are likely to perform at your best. For example, if you know you are a morning person then use that energy to take on big picture thoughts and decisions and leave emails for when you are at a lower ebb in the afternoon.
Figure out how your boss works. If your supervisor or boss is an afternoon person then use that time to approach them with your ideas and requests.
Rethink meetings.
A lot of our days are taken up by endless meetings; we probably attend far too many. Before you put a meeting in your calendar ask what the purpose is and what the organiser needs from you.
Meetings should stay on the agenda and should be for decision-making - if everyone prepares properly you should be able to limit them to 15 minutes.
Try standing to keep alert and avoid having food or drinks, which can turn meetings into longer social occasions.
Edit every email, cutting its length by at least 50 per cent
Make your emails succinct and to the point. Edit the copy to a shorter version meaning the receiver is more likely to read it.
Write what you want to say rather than what you want people to think - stick to the facts, keep things simple and, if there's a request, make it clear.
Get cut-throat

Time is a valuable resource so, work out who and what you need to spend yours on in order to achieve your goals.
Each week, decide on three things you want to achieve by the end of the week, as well as a few people you want to have spent some time with.
Hold steady to your plan, you'll stand a much better chance of achieving at least some of it.
Don't ignore your holiday
Bring some of the positive feelings you had while on holiday back to the office.
Put a photo or small memento of your trip on your desk to remind you of the wonderful time you had and help you hold onto the positive energy that comes from taking time away to recharge.
This can also motivate you to plan your next holiday.
Find your back-to-work mojo
Why not buy yourself some new clothes for work? Autumn is a new season and just like a new school uniform can help kids get motivated about going back to school, having a new wardrobe can help you feel excited about returning to work post-holidays.
Get excited about the work you do - Is there a particular project that you're looking forward to working on, or an opportunity to become involved in a new initiative? Getting stuck in can get your creative energy flowing and instill a sense of achievement.
Source: Fastcompany.com